Perth Bikers Charity Ride 2020
December 6, 2020 @ 7:45 am

-

12:00 pm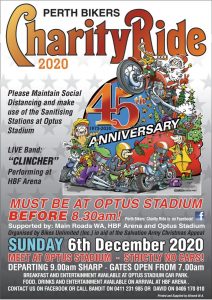 Hi all. DOCWA is pleased to once again support the Perth Bikers Charity Ride.  This year, which also happens to be its 45th anniversary, is particularly important because the Salvo's really need help supporting the many needy families affected by COVID.
Why you should come along?  (1) Because it is supporting a great cause. (2) Because this event is a long standing and important part of the club's calendar. (3) Because it is huge! Where else are you going to see ~1500 bikes in the one spot?
Where are we meeting?  We will ride as a  club group from BP Ascot to Optus Stadium (where the ride departs). We will leave the  BP servo at 7.45am sharp and head directly to our designated spot for the ride.  If you turn up to Optus Stadium separately you will most likely end up separated from us and have to join in with the hundreds of bikers that leave after the clubs have departed.  FYI the ride goes from Optus Stadium up the freeway (to the end and then we head south to Shenton Ave) and ending up at the HBF Arena in Joondalup.  This ride is not police controlled and we have the outside lane of the freeway dedicated to the charity riders.  So, like the last few years, we will move along at a good pace and enjoy waving at all the kids on the pedestrian overpasses!
What to bring?  This event is supporting the Salvo's Christmas appeal.  So festively decorating your bike and yourself is cool.  If you can bring along a gift to donate, or have some spare cash to drop into a donation bucket that would be great.  All gifts are welcome, including non perishable food. If you are going to get gifts for kids think about different age groups – not just stuffed animals for the little ones.
We look forward to seeing you. If you have any queries please contact committee@docwa.com.au. cheers